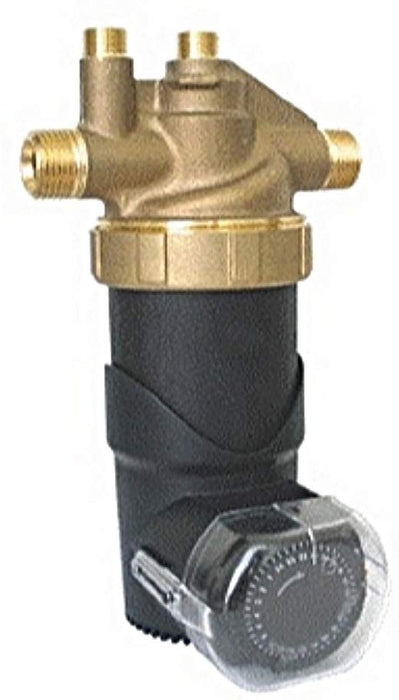 Laing LHB08100092 1/2" AutoCirc Recirculation Pump with Fixed Thermostat and Timer
Original price
$0.00
-
Original price
$0.00
How The ACT-E1 Works:
The auto circ pump is installed under the sink or faucet farthest from the water heater – where hot water usually takes the longest amount of time to arrive.
A built-in temperature sensor automatically turns the autocirc pump on when the water temperature in the hot water supply line cools down to 85º F. This cool water in the hot water supply line is then pumped into the cold water line and back into the water heater.
The autocirc pump turns off automatically when the hot water supply line to the faucet reaches a temperature of 95º F, ensuring the instant availability of shower warm water with maximum temperature hot water only seconds behind. When the pump is automatically turned off by the built-in thermostat, an auto closure device prevents hot or cold water from mixing in either supply line.
Another beneficial feature is that hot water will also be instantly available at all other faucets in the supply line between the water heater and the faucet where the autocirc pump is installed.
Features and Benefits
The Autocirc Under-Sink Instant Hot Water Pump System:
Does not require a return line.
Requires only 14 watts of power.
Packaged complete with a 6 ft. long power cord.
Requires only one pump and one installation for all fixtures on the hot water plumbing line.
Has built-in fixed thermostat or an optional, adjustable thermostat.
Has a built-in 24 hour timer which allows the selection of system operating periods to suit family usage.
Saves the average family of four up to 17,000 gallons of water annually.
Is silent during operation.
Saves energy, money, water and pays for itself in a short period of time (see energy saving chart below).
Compact Design: Close coupled, space saving design provides easy installation.
Mounting: Pump can be mounted horizontally or vertically with motor end down.
Motor Bracket: Plastic snap ring easy for installation.
Construction: Lead Free Brass* construction.

Ceramic Bearing Ball and Carbon Bearing Cap: High density ceramic bearing ball and graphite impeller bearing cap designed for high efficiency and long life.
Impeller Highly efficient and dynamically balanced with carbon bearing for smooth ultra quiet operation.
Casing: Casing is Lead Free Brass Volute type construction.
Mechanical Seal: Unique patented design has no mechanical seal which is a potential leak path.
Motor: Patented spherical motor pump design is ultra quiet and is designed for continuous operation. All ratings are within working limits of the motor.
Noise level: Whisper quiet, less than 30 db.
Applications Specifically designed for the following use: Recirc Pump for Standard Water Heaters Specifications
Pump Pipe Connections: ½" NPT connection to the angle stops
Maximum Working Pressure: 145 PSI 
Maximum Temperature: 203° F
Rotation: counter clockwise when viewed from the motor end Motor: 
AC Magnetically Driven Spherical Motor
115 Volt 14 Watts 60 Hz, 3450 RPM 
Automatic Overload Protection