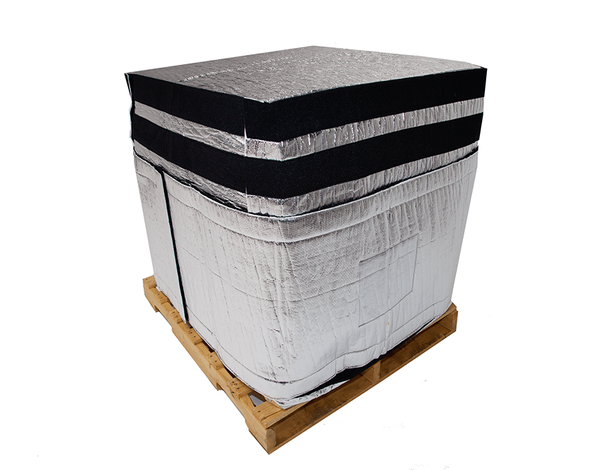 Pallet Parka Kit
Original price
$269.00
-
Original price
$269.00
The Pallet Parka Kit includes everything you need for chilled chain shipping . The Kit includes all 4 essential Pallet Parka pieces and a Parka Tote for shipping your Pallet Parka back to you via parcel freight. This 4-piece kit can accommodate a standard 48"x40" pallet product and can be adjusted to fit product heights from 23" to 45" (fits up to 70 16oz cans).

The Pallet Parka Kit includes:
1 Base layer

1 Top Layer

2 Standard Size Side Skirts for product heights up to 45"

1 Parka Tote for return shipping
What if you could save up to 50% over refrigerated shipping and still have your product arrive at an optimal temperature?
What if you could reuse it over and over again and extend your ROI?
What if you had one solution to fit your varying shipment sizes?
Meet Your New Approach to Cold and Chilled Chain Shipping!
What if there was a different solution to chilled chain shipping that saves time, money and the environment?
If you have flexibility in your product's temperature range, the Pallet Parka solves all common cold chain shipping problems for craft beverages, wine and spirits, food products and pharmaceuticals.
Let's be honest. You spend too much time and energy crafting your product to be limited to only two options: refrigerated shipping or delivering a spoiled product. Pallet Parka provides an economical solution by allowing you to bypass chilled chain transport without risking a damaged product.
The Pallet Parka will comfortably move your product across the country or into international markets while losing a couple degrees per day from it's original temperature, depending on length of transit and ambient temperatures. Once your product reaches its destination, you can easily ship your Pallet Parka back to you via parcel freight in the Parka Tote and reuse it for your next delivery. 
Whether you are shipping ingredients or your final product, the Pallet Parka is able to deliver your product while mitigating loss and maintaining a more consistent temperature.
WHAT IT DOES
Heat Protection
Throughout domestic and international travel, Pallet Parka ensures your product maintains a more consistent temperature. Using the mass of your product's core temperature, the Pallet Parka provides a refrigerator-like atmosphere that limits heat transfer from convective and radiant transfer. In normal conditions your product will reach ambient temperature in a matter of hours, whereas the Pallet Parka helps your product retain its core temperature and dramatically delays your product from reaching ambient temperatures.
Freeze Protection
Freight often gets stuck in transit, which could potentially expose your product to sub zero temperatures. The Pallet Parka provides an added layer of protective insulation to ensure your goods are safe from unexpected delays. 
Light Protection 
Pallet Parka's 100% opaque construction shields light-sensitive goods from harsh rays which could affect the integrity of your product.
FEATURES
Insulate
Pallet Parka insulates temperature sensitive goods to prevent them from getting too hot or too cold while in transport.
Protect
Even with standard shipping, shipments are susceptible to load forces, stacking, and shifting. With over 700 sq inches of velcro protection and strength, the Pallet Parka mitigates loss by reducing the amount of load forces or damage that can occur while in transit. 
Adjust
Pallet Parka is designed to fit a standard 48"x40" pallet but can easily adjust to accommodate height of your product from 24 up to 45" with the standard side skirts and 48 to 70 inches with the XL skirts. 
Reuse
Many shipping products offer only single usage—this is not beneficial for the environment or your investment. The Pallet Parka is constructed with four modular pieces so you can replace a section should damage occur to your Pallet Parka. You can also easily ship it back to you after use in its handy Parka Tote. That's a win-win for your ROI (return on investment) and the environment. 
MODES OF TRANSPORT
The Pallet Parka can be used in a number of modes of transport, such as dry LTL (less-than-truckload), non-refrigerated TL (truckload), air cargo, or even in the back of a van to keep product cool on sales runs.
Unless you decide to ship via reefer, freight transportation like TL and LTL are typically not temperature controlled. This is where Pallet Parka saves you money and your cargo, as you can ship your product on a dry truck without exposing it to extreme temperature fluctuations.