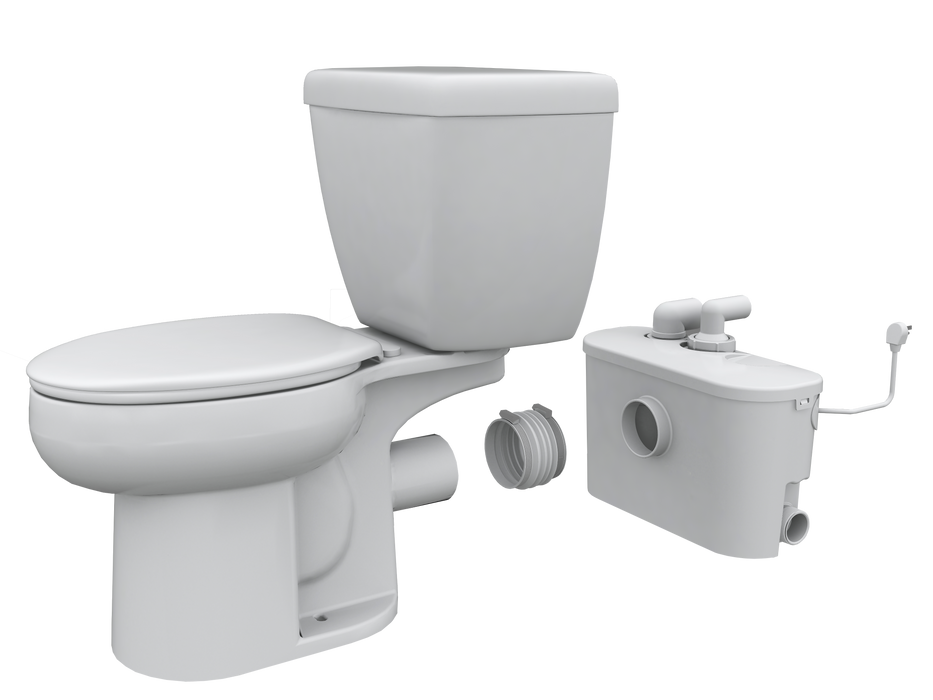 Zoeller Qwik Jon® Premier Toilet System
Original price
$1,257.00
-
Original price
$1,257.00
A quiet, preassembled 1/2 HP grinder pump system requiring minimal space for installation and no breaking concrete! Complete system shipped right to your doorstep!
Are you tired of breaking through concrete floors to install plumbing for a new bathroom? This challenging work often takes time and uses precious money from the budget. The Qwik Jon  Premier 1/2 HP bathroom grinder pump system doesn't require a gravity drain, making it a convenient option for bathrooms on the ground floor or in basements.
How does the Qwik Jon Premier Upflush System Work?
The toilet flushing causes the water to enter the tank and activates an above-floor sewage ½ HP grinder. The QJP utilizes Zoeller's Tri-Slice® Cutter Technology, which provides powerful cutting capabilities to grind solid waste, toilet paper, sanitary items, and other materials into smaller particles in approximately three to four seconds.
The pump propels the particles into a standard pipe measuring 3/4″ to 1″ in diameter.
The tank is now empty, and the system is ready for another use.
Features and Benefits
Applications: Residential/Light Commercial
Flushables: Toilet paper, organic waste and sanitary items
Install a complete bathroom without breaking concrete!
Easily connects to a tub, shower, sink, or other fixtures with 2" NPT or 1-1/2" slip side inlets
No gravity drain required
Install as a freestanding unit or behind a wall
Automatic reset thermal overload protects the pump
Carbon/Ceramic mechanical shaft seal for long life
Upper and lower ball bearings for efficient and quiet operation
Non-clogging vortex impeller for reliable operation
Recessed side handles for carrying
Withstands total immersion (IP68)
1" Discharge elbow with built-in check valve
Standard 6' (1.8 m) cord with right angle plug
Tri-Slice® Cutter Technology - three independent cutting channels provide over 250,000 cuts per minute
Premium investment-cast 440C stainless steel cutter and cutter plate
1 year limited warranty
Items needed by installer
Supply fittings and waste pipe

4" toilet inlet, 2" NPT side inlets, 1" discharge - 3/4" discharge adaptable

115V / 1 Ph electrical source with ground fault interrupter (GFCI) protected receptacle
Water supply - 1/2" supply line
Tools - screwdriver, hole saw pipe wrenches and piping sealant
Complete Kit (201-4000) includes Qwik Jon Premier and an ADA compliant toilet with an elongated bowl.