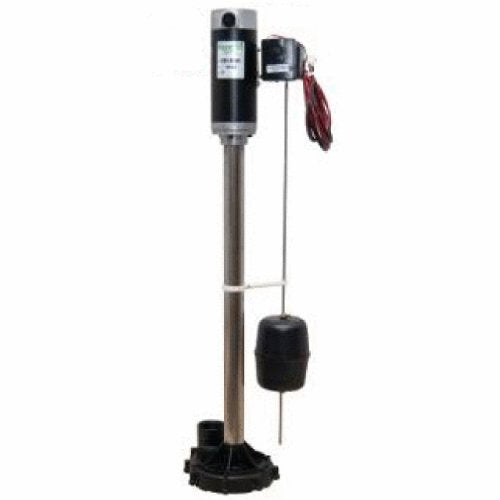 Zoeller 585-0005 Aquanot® II Battery Backup Pedestal Sump Pump System with Electronic Charger
Original price
$895.79
-
Original price
$895.79
Battery back-up pedestal sump pump
Extra protection when your primary pump fails for any reason
No interruption in pump performance because of power outage or failure of primary pump
One of the most reliable and well-established battery backup systems in use today
25 years of proven performance in the field and thousands of satisfied customers
Pump has heavy-duty, 12 V motor and positive contact float switch
Stainless steel column and shaft
Non-corrosive base assembly
Discharges water as fast as many 1/3 HP primary pumps
Aquanot® II equipped with automatic electronic 28.0 amp charger to maintain and recharge battery
Pump alarm included
Minimum pit requirements: 18" x 22" (46 x 56 cm)
For AC pump backup and emergency use.
The Complete Aquanot® II system includes the pump, the electronic charger and a 12 V pump alarm. You may purchase the DEEP-CYCLE battery and battery box separately.
Aquanot® II comes with these electronic charger features:
28.0 amp battery charger
LED status indicators
Automatic battery recharging
Microprocessor controlled
Each unit individually tested
3.5 amp AC input
12 V DC output
Because this unit converts AC to DC, this pump will operate for an extended time as a backup unit in case of primary pump failure
Aquanot® Battery:
Size 31 "Wet" No. 10-0761 (69 lbs / 31 kg), 200 minute reserve capacity
Size 27 "AGM" No. 10-1450 (66 lbs / 30 kg), 175 minute reserve capacity
Minimum battery requirements deep cycle, size 27, 175 minute reserve capacity
Notes 
Aquanot® II (Model 585) data was developed with the charger supplying DC power to the pump.
Products may not be exactly as illustrated.
Charger may also be purchased separately.