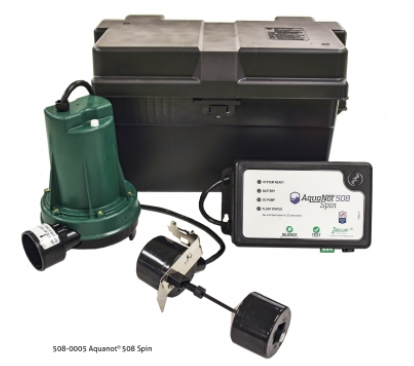 Zoeller 508-0005 Aquanot® Spin 508 Battery Back-Up System
Original price
$504.00
-
Original price
$504.00
 Self testing 12 Volt backup sump pump system. Fully automatic, and industry best performance and efficiency.
Premium Protection at a great price!
Highest performance and efficiency pump
2 days of battery protection (10% duty cycle), 5.5 hours of continuous pump run
Can connect 2 independent switches for redundancy. Not just a single switch with 2 floats
Optional high water switch for alarm and redundant pump run
Smart, innovative controller with premium built-in diagnostic logic and battery maintenance and alarms 
Includes 508 DC pump, Aquanot® Spin controller, Vertical operational switch, battery box, and fittings
3 year warranty
Designed and tested for reliability, the Aquanot® 508 DC sump pump works alongside submersible or pedestal pumps to provide up to 6 hours of continuous high performance pumping when the primary pump power is interrupted or more capacity is needed. The 508 is made by Zoeller in Indiana. Each pump is individually tested and achieves 35 GPM at 10' at 12.7 volts.
The Spin controller is an automatic charging and protection system, including a low battery indicator and alarm, self-testing technology, and an optional high water switch.
Self-testing pump
Early warning and smart diagnostics
Supervised switch connections
Optional high water sensor
The included battery case will accommodate maximum battery dimensions of 13" L x 7-1/2" W x 9-1/2" H (33 cm L x 19 cm W x 24 cm H) and fits all group size 27, 29 and 31 batteries. Made from non-corrodible polyethylene. To use multiple batteries, order extra battery case with hook-up wire (P/N 007861). Battery not included.
An integrated DC pump discharge check valve, additional AC pump thread-in check valve, tee, and adapter are included.
This charger uses the latest switch mode technology available. This allows for an extremely efficient charger in a compact design.