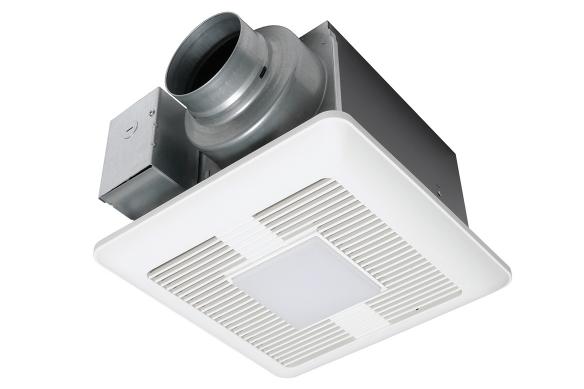 Panasonic FV-0511VQL1 WhisperCeiling® DC™ Fan|Light, 50-80-110 CFM
Original price
$246.99
-
Original price
$246.99
WhisperCeiling® DC™ Precision Spot Ventilation Fan/ Light with built-in Pick-A-Flow™ speed selector switch allows you to select your required airflow (50-80-110 CFM). Features an ECM Motor with SmartFlow® technology and a Flex-Z Fast installation bracket. Can be used to comply with the latest codes and standards.
Revolutionary ECM motor with SmartFlow™ technology for optimum CFM output
Pick-A-Flow™ Speed Selector – one fan, you choose the CFM (50, 80, 110 or 110, 130, 150 CFM models)
Flex-Z Fast bracket provides flexible, fast & trouble-free installation, even from below the ceiling
Lighted models incorporate one long-life, 10W dimmable LED chip panel with <1W LED night light for warm, energy efficient illumination
Elegant grille design compliments the aesthetics of any bathroom
WhisperCeiling DC comes from a line of time-tested and customer approved quiet, yet powerful and energy efficient ventilation fans. This precision spot ventilation solution improves IAQ by effectively removing moist, polluted air from your bathroom, laundry room, sun room, basement or garage.
WhisperCeiling® DC™ is designed to perform as rated. When the fan senses static pressure, its speed is automatically increased to ensure optimal CFM output. This feature provides peace of mind, as the installer doesn't have to worry about compromising the fan's performance, even with a complicated duct run.
Built-in Pick-A-Flow speed selector provides the unique ability to select your required airflow (110-130-150 CFM) with the flip of a switch.
Fan/light models feature a contemporary flush mount grille that incorporates a long-life 10W dimmable LED chip panel with <1W LED night light for warm, lasting  energy efficient illumination. Panel specifications include: 3000 Kelvin Warm White/90CRI/700 lumens/70 LPW/ENERGY STAR 2.0 certified/JA-8 compliant for CA Title 24/ 50,000 hours rated average.
The Flex-Z Fast™ installation bracket with articulating joints is ideal for positioning the fan exactly where you want it, in old or new construction. An integrated dual 4" or 6" duct adapter gives greater flexibility in duct layout and design.