Moen Flo by Moen Leak Detection Smart Home Water Security System
The Flo by Moen Smart Water Shutoff is the industry-leading leak detection and water monitoring device for your home. Installed on the main water supply line, one device protects the entire home from water damage and leaks, guaranteed.

The Smart Water Shutoff continuously monitors your home water pressure, flow rate, and temperature. Using our MicroLeak™ technology, the Shutoff runs daily Health Tests to identify any small leaks behind your walls, down to a drip per minute.

The entire system is supported by our FloSense™ A.I., which learns the unique water footprint of your home to better identify water usage irregularities and inconsistencies, keeping you safer, faster.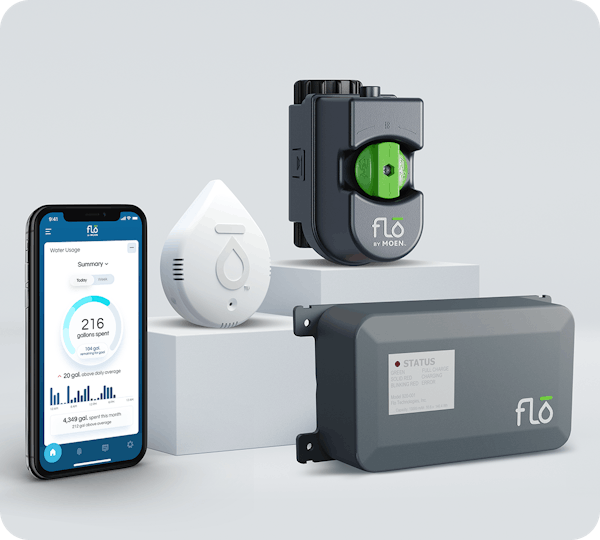 Remote + Auto Shut-Off
Once installed you can prevent damage directly from the Flo by Moen App, anywhere in the world. Not able to get to your phone? Our system is smart enough to automatically shut the water off and protect your home.
24/7 Plumbing Monitoring
A burst pipe can happen anytime, but with a Flo by Moen, you'll catch it. Since the device is not dependent on Wi-Fi to turn off your water, you'll be protected whatever the conditions.
Daily Health Tests
Runs daily Health Tests with MicroLeak™  technology to ensure that your home is leak-free.
Smartphone Control
Manage alerts, see how much water you're using, even remotely shut off the water manually, all from the app.
Getting Started
The Smart Water Shutoff needs to be installed on the main water line of your home. For about a week, your device will be in "Learning Mode." During this period, the Smart Water Shutoff learns the unique water usage patterns of your home.
Pair your Shutoff with your Flo by Moen App
Install your Smart Water Shutoff
Wait 10 days for the Shutoff to learn your home
Enjoy total protection
Customizable Security
Whatever your need, the Flo by Moen Smart Home Water Security System is designed to be customizable for all homes.
Flo by Moen App