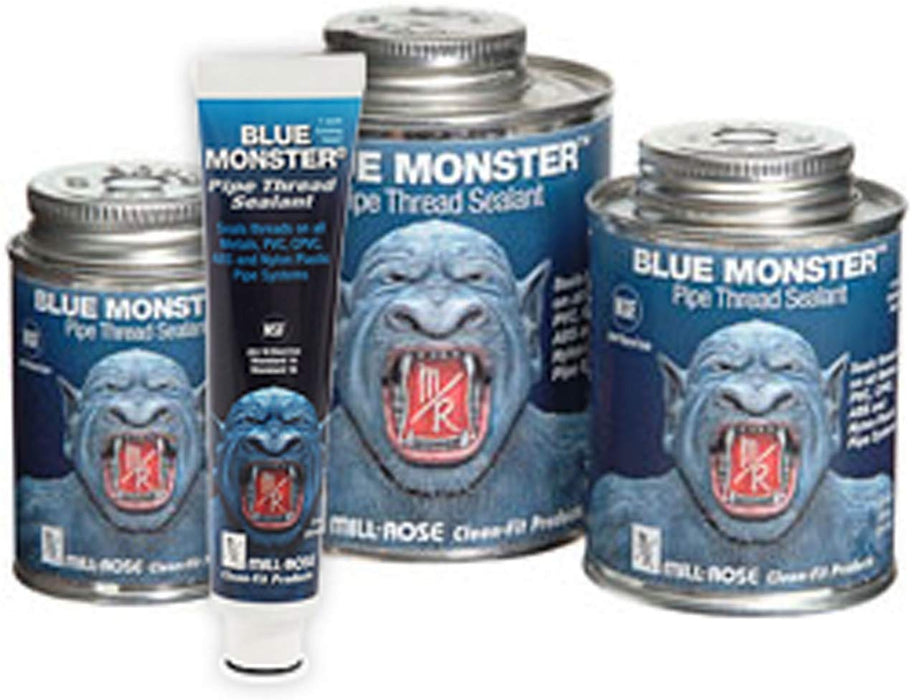 Mill-rose Blue Monster® Heavy-Duty Industrial Grade Thread Sealant
Original price
$0.00
-
Original price
$24.55
Blue Monster Professional-Grade pipe joint compounds have been engineered to address poor quality metal threads and the increased use of plastic pipe systems. Two formulas are available in the regular compounds one with and one without PTFE. They won't "separate" in the can as easily as other brands when not in use and they adhere to the threads even in the presence of water or oils.
Seals threads on all Metals, PVC, CPVC, ABS and Nylon Plastic Pipe Systems

Heavy-Duty Industrial Grade
Specially formulated for production line use 
Non-hardening
Non-toxic
Slow-Drying
Easy-cleanup
Soft-Set
Grit-Free 
Low-Odor
BLUE MONSTER Industrial Grade Pipe Thread Compound is a slow-drying, soft-setting, non-hardening pipe thread compound. Specially formulated with superb "sticking" characteristics, Blue Monster applies evenly and quickly to threads. Blue Monster is recommended for on-site or assembly line work. It is lead-free, non-toxic and will not harden or separate in the can.
When applied properly, Blue Monster allows the system to be pressurized immediately after assembly. It does not require any set or cure time.
This compound is made with the highest quality materials. All information provided is based on our laboratory testing, independent laboratory test results and actual field experience.
Temperature range: -50ºF (-45ºC) to +400ºF (204ºC)
Pressure ratings: Gases up to 3,000 PSI (210.9 kg/sq cm) Liquids up to 10,000 PSI (703 kg/sq cm)