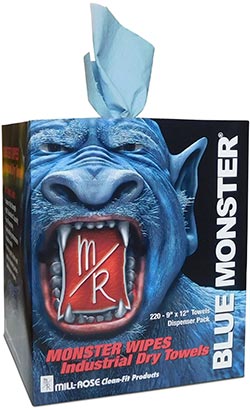 Mill-Rose Blue Monster® MONSTER WIPES Industrial Towels
Original price
$27.74
-
Original price
$27.74
BLUE MONSTER® MONSTER WIPES Industrial Towels are a low-lint, cellulose and synthetic-based disposable wiper offering superior wet strength and versatility for light to heavy-duty wiping applications. With 550% absorbent capacity, MONSTER WIPES Industrial Towels are great for cleaning up water, solvent and oil-based spills.
MONSTER WIPES Industrial Towel's latex-free fabric is soft, virtually lint free, for delicate wiping applications, while providing superior strength for cleaning tools, parts and a range of hard surfaces
Easy Dispensing
Superior Wet Strength
550% Absorbent Capacity! 
Long-lasting performance reduces waste 
Ideal for parts, tools and surface cleaning, heavy-maintenance wiping
Applications: General cleaning and scrubbing, heavy-duty wiping of grease, oil, chemicals and dirt.
Industries: Plumbing, Heating, Cooling, Oil, Gas, Industrial, Food Service, Janitorial/Sanitation, Automotive, Agriculture, Hospitality, Institutional, Medical and more.