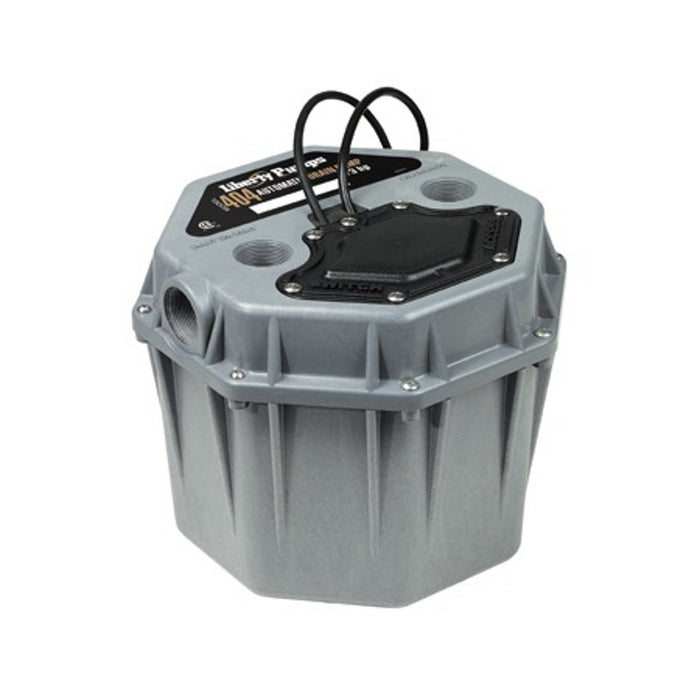 Liberty Pumps 404 1/3 HP, 115V Residential Drain Pump
Original price
$343.50
-
Original price
$343.50
The short profile of Liberty's 404 is specially designed for compact areas and gives you the freedom to install fixtures where gravity drain lines are not available.  Our QuickTree® Technology provides a separate access cover for easy switch inspection. For gray wastewater applications, the 404 is perfect for laundry tray sinks, bar sinks, washing machines and other basement remodeling projects.  The system arrives fully assembled and ready to install. Alarmed models available.
Features:
1/3 hp.

1-1/2" Discharge

3/8" Solids Handling

Factory pre-assembled, ready to install 

Fully automatic operation 

Short profile design for compact areas – only 11" tall

Separate access cover for easy switch inspection (QuickTree®) 

Integrally molded rubber gasket for a superior gas-tight seal 

Standard alarm and Wi-Fi alarmed models available
Applications:
Bar sinks

Laundry trays 

Dehumidifiers 

Utility sinks 

Gray wastewater drainage below gravity lines
Dimensions:
Weight: 13 lbs

Height: 11-1/8"

Major Width: 13-3/4"

Total Basin Capacity: 4.3 gallons

60 Hz, 3450 RPM
Maximum fluid temperature 104°F continuous duty, 140°F intermittent duty. Not intended for use with chemicals.