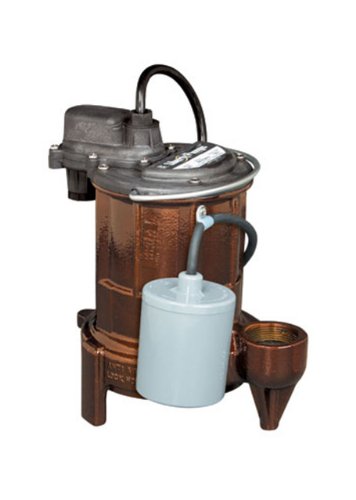 Liberty Pumps 253 1/3-Horse Power 1-1/2-Inch Discharge 250-Series Cast Iron Automatic Submersible Sump Pump
Original price
$235.50
-
Original price
$235.50
Rugged and dependable heavy-duty cast iron pump with powder coat finish.
Liberty Pumps "workhorse" sump pump features a unique one-piece cast iron body, quick-connect power cord and three different switch options - including our Vertical Magnetic Float (VMF) design for smaller pits (model 257).
With a durable epoxy powder coat finish and vortex-style impeller, Liberty Pumps 250-Series pump is the perfect choice for low-head effluent pumping or basement dewatering.
1-1/2" Discharge

1/2" Solids Handling

Rugged 1/3 HP

Oil-filled motor with thermal overload protection

Hermetically sealed motor and switch cavities 

Permanently lubricated bearings 

Liberty Pumps UNI-BODY casting – a solid, one-piece housing that eliminates the lower motor seal ring found on other pumps

Epoxy powder coat finish

Vortex-style impeller made of high temperature engineering polymer for superior solids handling

Fasteners – all non-corrosive stainless steel 

416 stainless steel rotor shaft
MOTOR SPECIFICATIONS:
1/3 HP 115 V 5.2 A 60 Hz Thermally Protected & Permanently Lubricated (PSC) Permanent Split Capacitor

Maximum Fluid Temperature: 140°F
DIMENSIONAL DATA:
Weight: Model 257: 20 lbs

Height:10-1/2"