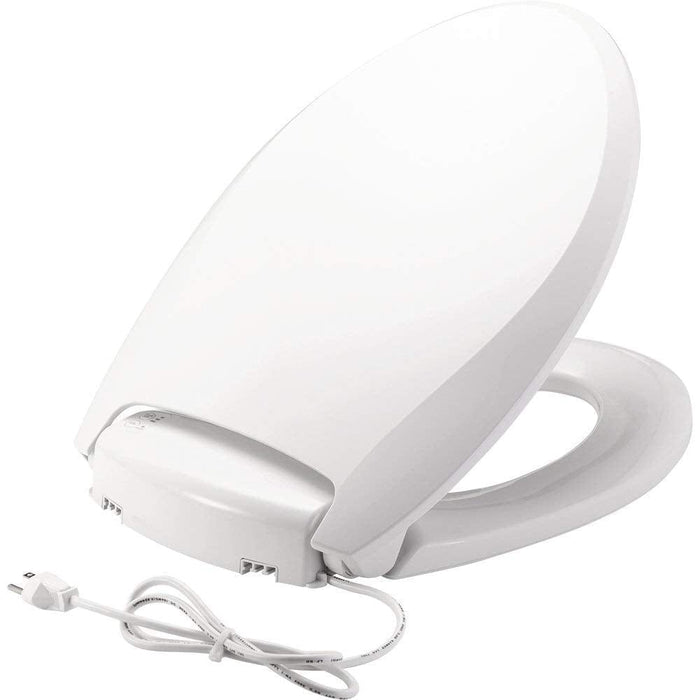 Bemis H1900NL Radiance Heated Night Light Plastic Toilet Seat
Original price
$142.75
-
Original price
$142.75
This BEMIS Elongated closed front toilet seat features a multi-setting warming seat and night light. The 3 temperature settings allow for optimal comfort while the red night light is designed to prevent disruption of your normal sleep pattern. Precision seat fit technology provides for the perfect bowl fit while the Whisper Close feature prevents both the ring and cover from slamming. In addition, the STA-TITE Seat Fastening System prevents the seat from shifting and stays firmly attached to the toilet. The seat is powered by a standard GFCI outlet. BEMIS continually brings innovation to everyday life.
3 TEMPERATURE SETTINGS: A heated toilet seat that brings the perfect level of comfort and features a soothing LED night light for bathrooms visits in the dark.

ILLUMINATES THE BATHROOM: 3 temperature settings for comfort.

NEVER HAVE A LOOSE OR WOBBLY TOILET SEAT AGAIN: Illuminates the bathroom with a soft, soothing glow.

NO SLAMMING OR PINCHED FINGERS: Never have a loose or wobbly toilet seat again. The STA-TITE® Seat Fastening System™ installs with a snap and will never come loose.

PERFECT TOILET BOWL FIT: A slow and soft closing toilet seat with no more slams! The Whisper•Close® hinge prevents pinched fingers and closes slowly to the bowl.

PROVIDES GREATER STABILITY: A perfect fit to your toilet bowl with Precision Seat Fit™. Use the front-to-back adjustability for the desired fit.Feel secure on your toilet seat with Super Grip Bumpers™. The large bumpers prevent seat shifting and provide greater stability.