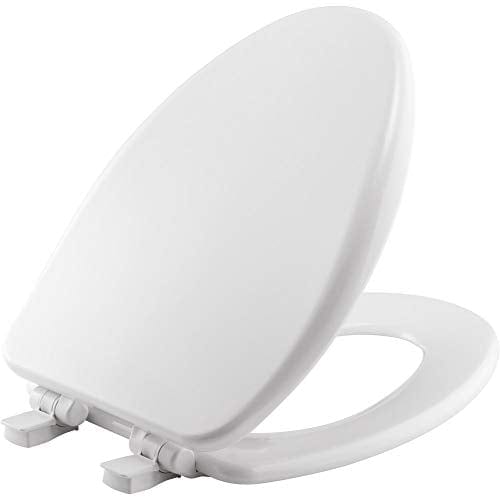 BEMIS 19170PLE4-000 Alesio II Eglongated Toilet Seat
Original price
$42.00
-
Original price
$42.00
This High Density™ enameled wood seat provides superior strength and stability while matching the look of ceramic. This slow closing seat is also easy to clean and remove. With the STA-TITE® Seat Fastening System™, the seat does not shift around and stays firmly attached to the toilet.
Features
NEVER HAVE A LOOSE OR WOBBLY TOILET SEAT AGAIN

Never have a loose or wobbly toilet seat again. The STA-TITE® Seat Fastening System™ installs with a snap and will never come loose.

QUICKY AND EASILY REMOVE FOR CLEANING AND REPLACEMENT

Quickly and easily remove your toilet seat for cleaning and replacement with Easy•Clean™.

NO SLAMMING OR PINCHED FINGERS

A slow and soft closing toilet seat with no more slams! The Whisper•Close® hinge prevents pinched fingers and closes slowly to the bowl.

PERFECT TOILET BOWL FIT

A perfect fit to your toilet bowl with Precision Seat Fit™. Use the front-to-back adjustability for the desired fit.

PROVIDES GREATER STABILITY

Feel secure on your toilet seat with Super Grip Bumpers™. The large bumpers prevent seat shifting and provide greater stability.

STYLISH, HIGH-GLOSS FINISH

This beautiful wood toilet seat boasts a highly-stylized design with a superior high-gloss finish that resists chipping and scratching.

CLASSIC LOOK

Achieve the classic bathroom look with hinges that match the toilet seat color.

FITS MOST MANUFACTURERS' ELONGATED TOILETS

FITS MOST MANUFACTURERS' ELONGATED TOILETS including Kohler, American Standard, Toto, Glacier Bay, Aquasource, Delta and many more.

PROUDLY MADE IN THE USA

Proudly made in the USA

ECO-FRIENDLY

Made with eco-friendly materials and processes.