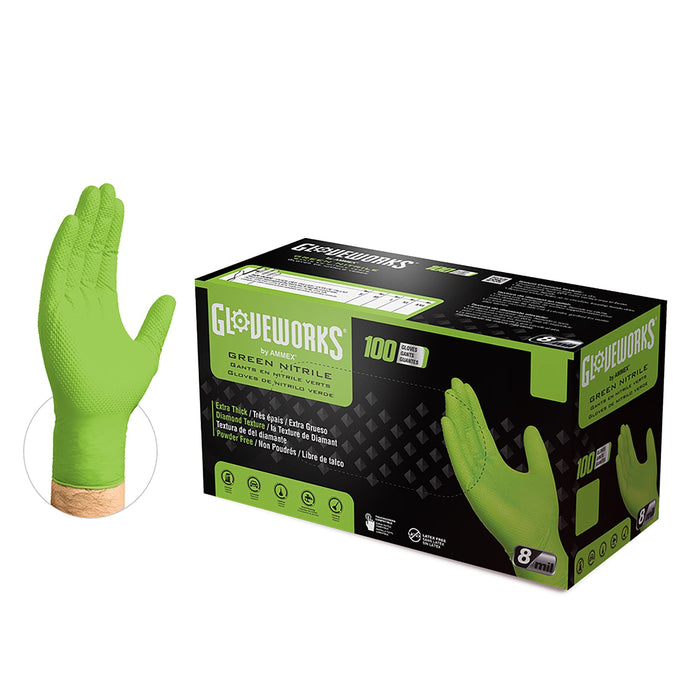 AMMEX® Gloveworks® HD Green Nitrile Powder Free Industrial Gloves
Original price
$25.00
-
Original price
$250.00
Box of 100 / Case of 1000 
AMMEX® Gloveworks® HD Orange Nitrile Powder Free Industrial Gloves are designed and engineered to handle the toughest jobs. Their raised diamond texture provides an unbeatable grip by channeling away liquids. Excellent puncture and chemical resistance. Latex free. 8- to 9-mil thickness. S-XXL, 100 gloves per box, 10 boxes per case.
You think you're tough? AMMEX® Gloveworks® HD Orange Nitrile Powder Free Industrial Gloves can handle whatever you put them through.
Those diamonds channel away liquids, so even when the glove is wet you can still hold on tight—no worries about losing control of tools. Reverse texture on the inside helps air circulate to keep your hands drier.
Their 8- to 9-mil thickness means greater resistance to rips, tears, and punctures, and provides for extended-duration use. They feature extra protection from grease, gasoline, pesticides, cleaning solutions, and a long list of specialty chemicals. The high-visibility color really demands to be seen.
Try AMMEX Gloveworks HD Orange Nitrile Powder Free Industrial Gloves—we're certain you won't want to wear anything else. The raised diamond texture will change the way you feel about disposable gloves.
AMMEX Glove works orange nitrile gloves are best used in heavy-duty applications and for any job where high-visibility color is needed for added safety.
Gloves come with raised diamond texture fingers, fingertips, and palms to provide enhanced grip even in wet conditions.
Powder-free and latex-free, these gloves are ideal for food handling, automotive, and industrial applications.
8 mils thick around the palm and fingers and 9. 5 inches long from the tip of the finger to the cuff of the glove.
The gloves come in size large and in cases of 1000.
These gloves are made from heavy-duty nitrile that is resistant to rips, tears, punctures, and many petroleum-based chemicals.
They offer extended-duration use, which means fewer glove changes during the course of a shift.