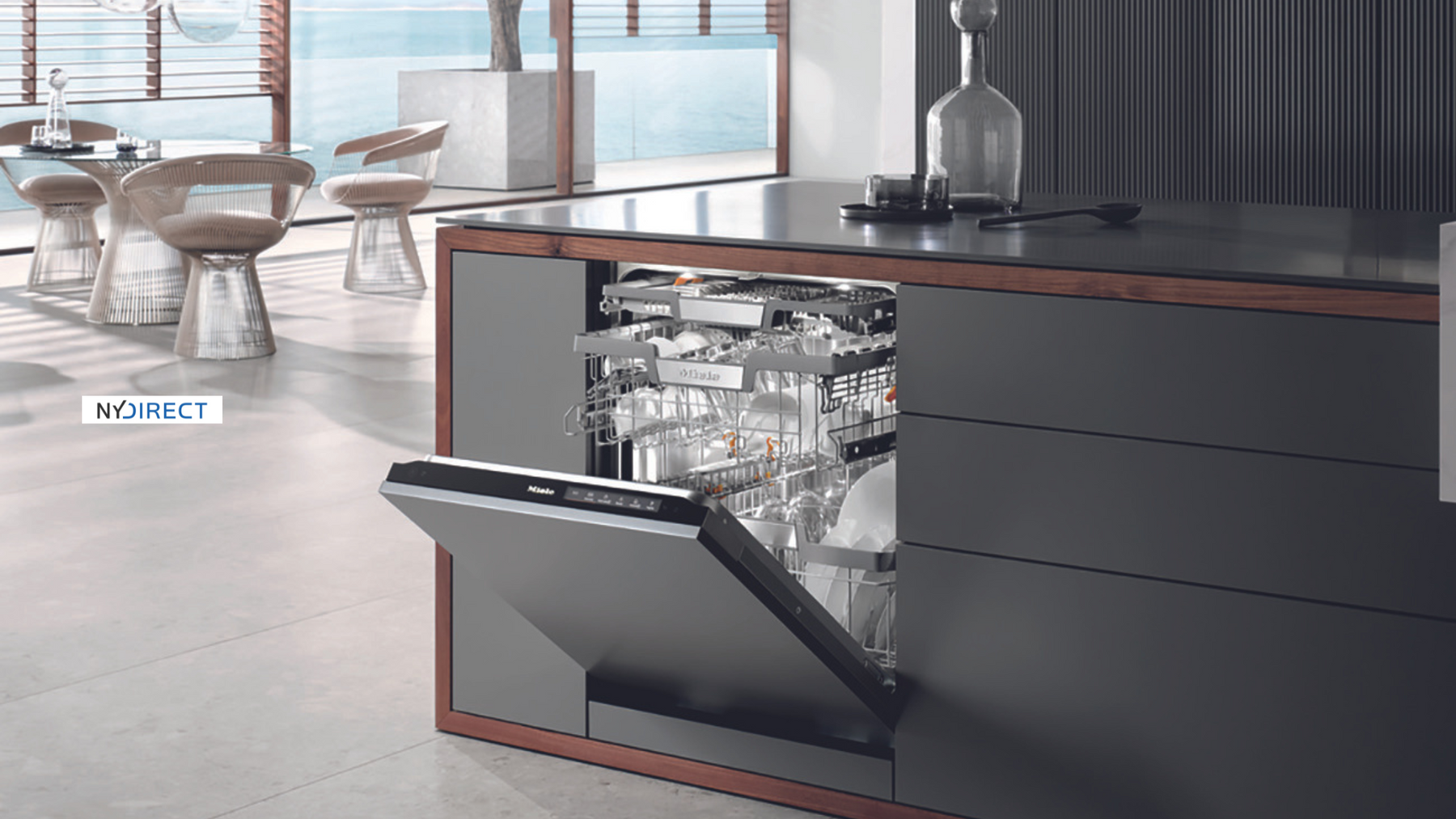 Elevate Your Kitchen Experience with the Miele G7366 Fully Integrated Dishwasher
In the contemporary kitchen, the perfect blend of efficiency and aesthetics can transform your culinary experience. If you're in search of a top-of-the-line dishwasher that seamlessly integrates into your kitchen design, the Miele G7366 Fully Integrated Dishwasher available on NYDirect is a remarkable choice. Boasting advanced technologies, customizable panel-ready design, and exceptional cleaning performance, this dishwasher is a true game-changer.
In this comprehensive blog, we'll delve into the remarkable features and benefits of the Miele G7366, highlighting how it streamlines your dishwashing routine while elevating your kitchen's functionality and visual appeal.

Seamless Integration and Customization: Elevate Your Kitchen Aesthetics

The Miele G7366 stands out as a fully integrated dishwasher, designed to seamlessly blend into your kitchen cabinetry. Its panel-ready design offers a unique opportunity to match the dishwasher door with the rest of your kitchen, creating a cohesive and elegant look. With a wide array of custom panel options, you have the creative freedom to tailor the dishwasher's appearance to match your kitchen's style, whether it's modern, traditional, or a distinctive fusion of both. The result is a visually stunning and harmonious kitchen environment where form and function coexist in perfect harmony.

Superior Cleaning Performance: A Sparkling Clean Every Time

At the heart of the Miele G7366 is its exceptional cleaning performance, which effortlessly tackles even the most stubborn food residues and stains. Featuring Miele's patented 3D+ Cutlery Tray, this dishwasher provides unmatched flexibility and organization for your silverware, ensuring a thorough clean with every cycle. The exclusive QuickIntenseWash program is a testament to its efficiency, offering powerful cleaning results in under an hour – a true lifesaver for busy households and frequent entertainers. With an array of cleaning programs and customizable options, the Miele G7366 consistently delivers sparkling clean dishes that exceed expectations.

Quiet and Energy-Efficient Operation: A Peaceful Kitchen Oasis

In addition to its cleaning prowess, the Miele G7366 is engineered for whisper-quiet and energy-efficient operation. Miele's innovative EcoTech Heat Storage system harnesses energy from the final rinse cycle to preheat the next wash, resulting in reduced energy consumption and a more sustainable dishwasher. Combined with superior insulation and a specially designed motor, this dishwasher ensures serene and peaceful operation, allowing you to enjoy a tranquil ambiance in your kitchen while the dishwasher expertly handles your dishes.

Intuitive Controls and Smart Features: Enhancing User Convenience

The Miele G7366 takes user convenience to the next level with its intuitive controls and smart features. The dishwasher boasts Miele's signature Touch on Metal controls, offering a seamless and responsive touch experience for effortless operation. The AutoOpen Drying feature is a delightful touch – automatically opening the dishwasher door at the end of the cycle, it allows fresh air to circulate and ensures optimal drying results. Furthermore, the Perfect GlassCare feature takes care of your delicate glassware by adjusting water hardness and temperature, keeping them pristine and ensuring they stand the test of time.

A Green Choice: Eco-Friendly Advantages of the Miele G7366

Beyond its remarkable cleaning performance, the Miele G7366 is also a green choice for environmentally-conscious homeowners. By incorporating eco-friendly features like the EcoTech Heat Storage system and energy-efficient components, this dishwasher minimizes water and energy consumption, reducing its overall environmental impact. Choosing the Miele G7366 not only elevates your kitchen experience but also contributes to a greener and more sustainable planet.

Simplicity in Maintenance: The ComfortClean System

Keeping your dishwasher clean and well-maintained is a breeze with Miele's ComfortClean system. The dishwasher's interior features smooth surfaces and high-quality stainless steel, ensuring easy cleaning with minimal effort. The ComfortClean system also includes FlexCare glass holders, ensuring delicate glassware stays secure during the wash cycle. This level of convenience allows you to focus on what matters most – enjoying your kitchen and spending quality time with loved ones.

Elevate Your Culinary Haven with the Miele G7366 Fully Integrated Dishwasher

Upgrade your kitchen to new heights of convenience and aesthetics with the Miele G7366 Fully Integrated Dishwasher, available on NYDirect. With its seamless integration, customizable panel-ready design, superior cleaning performance, and advanced features, this dishwasher epitomizes the perfect fusion of form and function. Revel in sparkling clean dishes, energy efficiency, and a tranquil ambiance, all wrapped in a sleek and stylish package.

By choosing the Miele G7366, you elevate your kitchen experience to a new level of efficiency, sophistication, and sustainability. Rediscover the joy of cooking and dining without the stress of dishwashing. Make your culinary haven a place of comfort, convenience, and lasting memories with the Miele G7366 Fully Integrated Dishwasher – a true masterpiece in modern kitchen appliances.